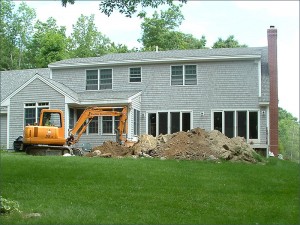 Sandbox Excavating offers a variety of services, from digging foundations, landscaping and stone walls, filling in old pools, repairing septic systems, installing stone walkways and much more.
What exactly can we do? The better question is "what can't we do?" Sandbox Excavating prides itself on a versatility of projects for the average homeowner. We have done such projects as:
• Installing and replacing septic systems
• Installing driveways
• Pool fill-ins and excavations
• Demolishing buildings
• Digging new foundations and replacing or repairing old foundations
• Building retaining walls
• precast step replacements
• koi ponds, waterfalls and pondless features
• Stump removal
• Waterline repairs
Please explore our Services section to learn more about what we do, or visit our Photo Gallery to see examples of our work.
Questions? Call us, we'd love to hear from you! We provide free estimates and initial consultations. Our number is 603-772-9504.