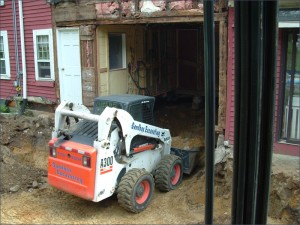 Sandbox can provide all the site work, from complete home site excavations to additions, driveway installs, underground utilities, prep for aboveground pools, pool fill-ins (removal), stump removal, and stump dump repair.
We also can do close quarter excavations for those tight spots that no one else can get into with those big machines. We have a mini-excavator, a Bobcat, and much more!
Do you have drainage problems around your home? Do you have a wet foundation, or water pooling, in your basement? Contact Sandbox so we can come check it out and discuss options with you. We can resolve drainage issues and install perimeter drainage systems, including French drains, which channel water away from a home's foundation.